Priscilla Valentine has been intrigued with pigs since age 3, when she was gifted with a whimsical rubber piggy toy. Being a city girl, she was unable to fulfill her ultimate dream...to nurture a huge, portly, classic Yorkshire farm pig, and spend her days just being with these bright animals. So, she went to libraries and read everything that she could find about pigs, and collected a variety of pig figurines, instead.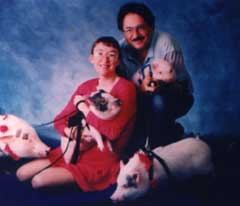 Ms. Valentine went on to get an English/Education degree at Central Washington University, and also attended college in London, England. When the potbellies arrived in the country, Priscilla and her husband Steve eagerly adopted several. Training them became a passion of Priscilla's, and she won more sanctioned National Advanced Trick Competitions than any other person. Her pigs went on to win the sactioned World Trick Championship an unprecedented four times. She spent so much time with her treasured house pigs, that she started training them in order to keep them both from getting bored! She used training to bond with them and to channel their energy into a positive direction. Her pigs became national obedience and obstacle course champions many times over. "Nellie," her most talented pigster, became one of only three Permanent Champions at these feats. Priscilla became avidly involved in the potbellied pig industry, and was elected to two terms on the Board of Directors of the National Committees on Potbellied Pigs. She wrote articles for national magazines, helping novice pet owners cope with porcine behavior problems, and lectured at national pig shows on training.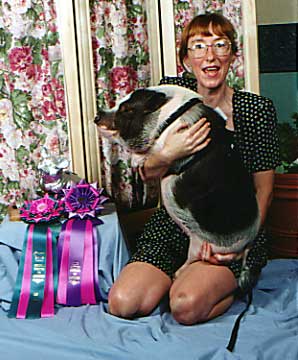 The Valentines purchased more potbellied pigs, then bred and nurtured a newborn litter of them. Priscilla spent her days studying the behavior of this newly - introduced mysterious species. She formulated her own unique training method especially designed to motivate pigs. And, she developed a way of socializing baby pigs from birth that made them potentially ideal pets.
The Valentines started taking their pigs out in public to perform at pig shows, more and more often. Local admirers wanted to hire the piggies to grace their bithday parties . Then festivals called for the pigs, followed by state fairs and professional sports events.
The media became enthralled with the energetic, shimmering white, thirty nine pound "Miss Nellie" and she appeared on Donahue, (twice) the Today Show, Animal Planet, The Discovery Channel, America's Greatest Pets, Real TV, Japanese TV, the BBC, and was awarded the $10,000 grand prize in the America's Funniest People competition. She's appeared on NBC, ABC, and CBS news multiple times. Nellie appeared in full color in over twenty front page news articles in just a few years, and is a top draw performer at age eight.
Steve Valentine left his long term job in order to help Priscilla persue her dream....performing with pigs, full time. He shares her love and enthusiasm for these stubby- legged , affable creatures.
Nellie and her co-stars Wilbur and the Duchess of Pork have made Valentines Performing Pigs the most successful and popular pig performing act in the world. The Valentines and their oriental companions have performed in front of SRO audiences in virtually every state, and are in high demand at large fairs and halftimes at professional sports events. Their highly trained pigs have also appeared in national T.V. commercials and are studio trained to the nth degree.
Ms. Valentine is probably best known amongst professional animal trainers for her high training standards. Her performing pigs are extremely energetic, responsive, and quick. Their feats are complicated, and often go against a pig's nature, like climbing steep ramps, or making multiple high jumps. Her eager pigs are capable of doing a challenging trick in less than five seconds time, and supercede any other type of animals capabilities, including dogs. Priscilla demands one hundred percent accuracy from her pigs, and her fast paced presentation is most often described as "incredible or "amazing". Even though potbellied pigs in general tend to be slow and unatheletic, the Valentine pigs are so highly motivated that they belie this and perform Olympic-like feats in a flash, on a mere command. This is what separates Priscillas pigs' performances from other animal presentations.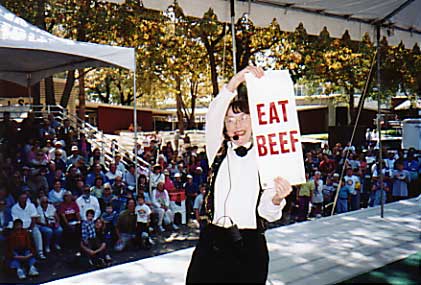 Her pigs love what they are doing, and it shows, by their constantly wagging tails and enthusiasm. Motivation is certainly Ms. Valentine's forte, and she is well respected for her exceptional talents in the entertainment world.
Priscilla wants her audience members to realize how intelligent that pigs really are, and to give them the respect that they deserve. She strives to educate, as well as entertain. The welfare and future of potbellied pigs as pets is of great concern to her. She feels that if people know what to expect BEFORE they purchase a pig, that the chances of the pig being abandoned are slimmer. Even though Priscilla is now well known in the animal entertainment field, her situation is unique. She intended to be neither an animal trainer nor an entertainer. She aspired to be a writer and high school English teacher. Because of the time commitment that she has with her animals, and her desire to make them secure and happy, her eventual career evolved, totally unplanned. She learned to deeply understand the nature of pigs, through her own personal experience with them as her treasured pets. Never in her wildest dreams did she think she would wind up on a stage, with a microphone in her hand, surrounded by porkers, in front of hundreds of people!
Even though Nellie and her bristly pals were full-time talented performers, they were most of all, beloved family members to Priscilla, and her husband Steve.