Fairs from coast to coast wre their best clients because they wanted a grounds act that is fast-paced, energetic, and most of all, attracted an enthusiastic clapping and screaming overflow crowd. All ages and ethnic groups loved the pigs! In addition, the performing mini "hams" were extremely attractive and unique, and pigs fit in with the traditional agricultural theme of fairs.
Watching a pig slam-dunk a basketball, dance on its hind legs, ride scooters and skateboards, and make football field goals is not something you routinely see ANYWHERE.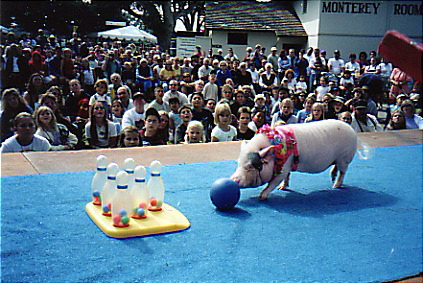 Over and over, audience members said that they were going to bring their grandchildren or neighbors to see the precocious pigs the next day. Some people came back to see the family-orientated show over and over again. The clever oinkers even won teenagers' admiration and attention...not an easy task these days.
Priscilla Valentine was a master showman, and her incredible enthusiasm sparked the audience. She knew how to pull an audience in, and keep them clapping and yelling for more. Her husband, Steve, handled the props, music, sound effects and got on the mic, too.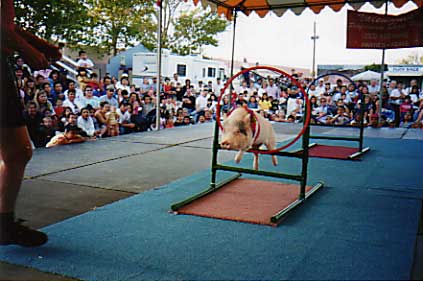 The act is politically correct because these pigs have been treasured personal pets for 12 years. The show was both educational and enlightening, but most of all, the action-packed, electrifying and humerous act was entertaining. The newspaper and TV coverage at fairs always concentrated on the pigs (see newspaper article section). Many people who have never been to a fair before came just to see the dazzling "hams'.
Nellie, the "World's Smartest Pig" and Four-Time World Pig Trick Champion was simply amazing and too cute for words. In addition to the audience getting to meet her, Snort, and the Duchess of Pork, an adorable trained and socialized piglet or two was usually brought out for the crowd to meet and pet. The audience seemed to get "in" to each pigs separate personality.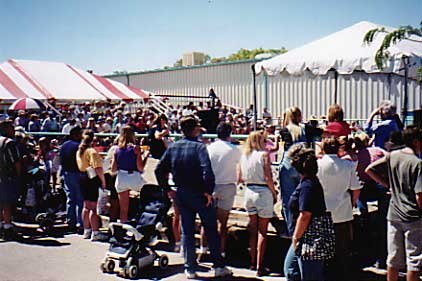 Because of the long range athletic feats involved, the amount of props, and the huge numbers the act generates, a 24 ft. or larger stage with bleachers for visibility was ideal for fairs. This was a BIG-sized act. The famous top-draw swiners would make the Fair a success and the Valentines would travel anywhere. Go here for a video of their performances.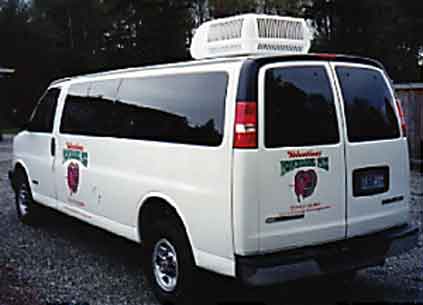 The porcine stars travel in a brand new luxury 15-passenger
van that looks great next to any stage.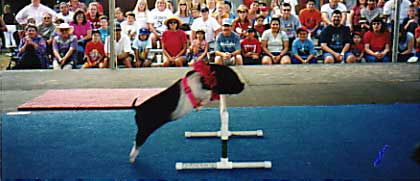 NEWSPAPER QUOTES ABOUT VALENTINES PERFORMING PIGS AT FAIRS:
"Savvy Swine Steal the Show" ~ front page headline, Asotin Co. Fair, Lewiston Tribune Newspaper
"Porkers are Corkers" ~ front page headline, Hood River Co. Fair, Hood River News
"Performing Pigs Make Audience Squeal With Joy" ~ headline, San Antonio Stock Show and Rodeo, San Antonio Express-News
"One explanation for the absence of kids on fair rides was the overflow attendance at the Valentines Performing Pigs show" ~ Southern New Mexico State Fair, the Sun News