Hog Wild
By MARY SWIFT, Staff Writer - Monday, October 1, 2007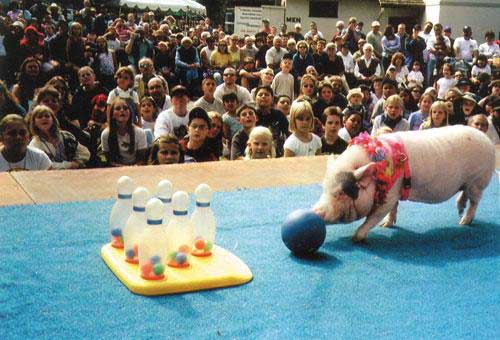 August Kryger
Priscilla Valentine's pig, Nellie, shown on stage bowling to the delight of a crowd, will perform this month at Suncadia resort's Second Annual Harvest Festival. photo contributed
ROSLYN - Back when she was a student at Central Washington University, Priscilla Valentine focused on studying English and education and planned on a career teaching English.
But pigs were never far from her mind.
After all, Valentine had been enamored of pigs since she was a toddler - and she'd spent her childhood dreaming of someday owning a pig of her own.
Call it a dream realized - one that began when Valentine and her husband, Steve, adopted a pot-bellied pig named Wilbur.
Valentine knew a ham when she saw one.
"When he got bored, he got into trouble," Valentine says. "So I trained him to do tricks."
Two years later, a pig named Nellie arrived on the scene.
"She learned all of Wilbur's tricks in a couple of days," Valentine says. "I realized we had a porcine prodigy."
Fast forward 15 years.
As for Valentine, forget teaching English. She teaches pigs.
"I don't think my mother, who paid for four years of college, ever forgave me," she says with a laugh.
Nellie, now a senior citizen as pigs go, continues a successful career as the star of stage and TV. (Wilbur, who used to appear with her has moved on "the big pig stye in the sky," Valentine says.) These days, Nellie's sidekicks are Snort, a 7-year-old potbellied pig, and Petunia, now 5. Together, they comprise an irresistable trio of bacon-on-the-hoof as good at making audiences laugh as it is at making Valentine proud.
Over the years, Valentine's pigs have made more than 2,500 appearances from schools and colleges to fairs, festivals and TV.
(Their most recent appearance was the "The Tonight Show with Jay Leno" this past summer. Nellie's scheduled to be featured in a program called "Swine Genius" on the National Geographic channel this fall. They've also appeared on "The Letterman Show," "Animal Planet," "Good Morning America" and "Donahue." They won Valentine $10,000 in America's Funniest People competition.)
This coming month, Valentine returns to Kittitas County - not to Central Washington University but to Suncadia - accompanied by her talented porkers.
They'll ham it up Sundays at noon and 3 p.m. at Suncadia's Second Annual Harvest Festival. The event is scheduled at the historic Nelson Dairy Farm at Suncadia. Admission is free.
Among her other tricks, Nellie will demonstrate her spelling ability. Petunia's repertoire will include running up a teeter-totter, balancing at the top, then running down the other side.
"For a pig that's just about impossible," Valentine says. "They're about as athletic as a cannonball."
As for Snort, he'll show his prowess at skateboarding and "ham-dunking" a basketball.
"They'll do about 35 tricks in all," Valentine says.
The festival runs from 10 a.m. to 5 p.m. Fridays, Saturdays and Sundays from Oct. 5 through Oct. 28.