Valentine's Performing Pigs Really Bring Home the Bacon

Valentine's Performing Pigs really bring home the bacon
By DAN FELDNER, Staff Writer dfeldner@minotdailynews.com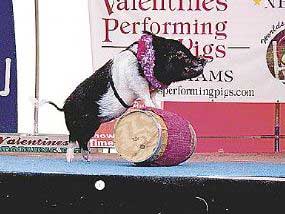 Dan Feldner/MDN
Petunia the miniature pig does her "pork barrel roll" during the show Wednesday. Other tricks Petunia performed included playing a set of toy horns, waving at the audience and slipping inside a suitcase so she could be carried off stage.
Snort, Petunia, Squirt and Nellie may sound like names straight out of a Saturday morning cartoon, but anyone who wants to see this performing foursome in the flesh need look no farther than Valentine's Performing Pigs, which is making its first appearance this year at the North Dakota State Fair.
Priscilla Valentine, the pigs' trainer, and her husband, Steve, have been travelling all over the country for 15 years putting on shows. Priscilla Valentine said she's loved pigs since she was three years old, and had a stuffed toy pig. This childhood love led her to buy a couple of miniature pigs, which quickly found new and unusual ways to amuse themselves.
"I noticed they became bored, and they would open the refrigerator with their snouts (and) chew carpet," Valentine said. "So I trained Nellie, who is our star, a trick one day. And she just came to life, just loved it."
That simple trick, dancing in a circle, was the beginning of something big for the tiny porker. They started entering Nellie in pig contests in the trick category. Nellie won time and time again, culminating with being named the World Trick Pig Champion in 1996.
"And she would bring home the bacon, literally," she said. "She would win the blue ribbon every time. No one could defeat Nellie, and we travelled all over the United States."
Nellie's performing career started when someone called the Valentines out of the blue one day and asked them to have Nellie perform at a birthday party. The icing on the cake was a $95 payday for the show.
"And we thought 'Great, money for something we love to do.' Of course we will, we'll bring Nel to your party," Valentine said. "And that was some party. Everyone was drunk at that party. They paid us $95, we were thrilled."
Nellie must have made a good impression, because ten years later, the same people called again to request entertainment for another birthday party.
"They remembered Nellie. Thank God she was still alive," Valentine laughed.
After that, schools, festivals and fairs started hiring them. At first the Valentines would do shows on weekends and during their vacation time, but the act grew so popular that they both quit their jobs in 1998 and started doing shows year round. Valentine said they are the only full-time performing miniature pig business in the United States.
They've even been asked to perform in foreign countries including China, England and Spain. Unfortunately, the pigs aren't allowed overseas because of the potential for spreading disease. However, this didn't stop them from making a quick appearance in Canada.
"We went to Canada, and it took the prime minister of Canada to get us in," Valentine said. We got a limo at the border, and we had to be in and out in 24 hours."
A television show in Canada set that appearance up, and they needed the prime minister's intervention to bypass the normal 30-day quarantine period for pigs entering the country. The show had to sponsor them and paid for their travel expenses, which is a pretty good indication of just how popular the act is both at home and abroad.
Further cementing Nellie's dominance as the world's smartest pig, she won the $10,000 grand champion prize on America's Funniest People. After that, a multitude of television shows booked Nellie for appearances, including David Letterman, Jay Leno and Oprah Winfrey. They've also appeared on Animal Planet over 30 times.
"We were off and running after that and never looked back," Valentine said.
Helping the 15-year-old Nellie entertain crowds around the country are Snort, a 7-year-old male, and Petunia, a 5-year-old female. The newest addition to the group is Squirt, a 10-month-old male who is making his debut in the show at this year's State Fair.
The pigs do a wide variety of tricks from the simple, such as dancing in a circle, to the more complex, such as rolling a barrel across the stage. Riding skateboards, pushing toy lawnmowers, bowling, playing soccer and golf, and jumping through hoops are only a few of the tricks the pigs perform during the show.
The most famous and popular trick belongs to Nellie. A bunch of toy letters are spilled on the stage and Nellie has to spell something. Picking up each letter, Nellie gives them to Valentine in order until they form the word she is trying to spell. Nellie is definitely a "ham," but strictly of the performing variety.
While Valentine said she can train a miniature pig to dance in about ten minutes, other tricks can take substantially longer. She said training Nellie to spell took around a year, and those complex tricks are what separates the star pig from other acts.
Valentine mentioned that pigs are the world's third-smartest animal, and this probably makes teaching tricks a bit easier. But the pigs still need to have some special qualities before they're able to learn a trick and perform it on a regular basis. Not every pig is meant for show business.
"There's a huge difference in personality and intelligence and in determination. Nellie is not only smart, but she has determination. When she starts a trick, she finishes it," Valentine said. "Other pigs will try it, they get tired of it, the weather's hot, they don't do it. But Nellie does the trick."
The Valentines have nine pigs currently, and breed a new litter every year, but have yet to find another Nellie. Valentine said she trains every pig they have to try to get them into the act, but very few make it.
It was finally cool on Wednesday, but triple digit temperatures were commonplace earlier in the week. Valentine said the pigs were doing just fine in the heat, largely due to all the measures the Valentines take to keep them comfortable. Fans, water misters, and a temperature-controlled van are all used to keep the pigs cool.
"The pigs' welfare is the most important thing. We will not do a show if the pigs don't enjoy it," she said. "And if they don't enjoy it, they won't do a show. So you can't make a pig do anything a pig doesn't want to do."
She said they consider the pigs to be their children. With no children of their own, Nellie and the others are the closest thing they have. This is fine for them, but other members of the family didn't take it quite as well.
"My mother never forgave me," she laughed. "She has pigs for grandchildren."
Though they've been able to travel all over the country and perform before scores of people, Valentine said the reason they keep doing it year after year comes down to one simple thing.
"It's very delightful in life when you get paid for doing something you like to do," she said.
The show can be seen through Saturday on Stage 1. Show times are 3 and 6:30 p.m. today and Friday, and 1, 3 and 6:30 p.m. on Saturday.
To learn more about Valentine's Performing Pigs, visit their Web site at (www.valentinesperformingpigs.com).