Little Critters Ham It Up To Bring Home The Bacon

By Julianne Crane
The Spokesman-Review
October 15, 2005


The tour bus for the headliners of this weekend's big show at the Spokane County Fair and Expo Center rolled into town yesterday.

You won't find this rig parked outside the Davenport Hotel like the luxury Prevosts of other internationally known performers.

No, these entertainers prefer more modest accommodations. Give them a simple crate lined with terry cloth towels and they are happy.

The stars of the third annual Animal Fair at the fairgrounds are the Valentines Performing Pigs, owned and trained by Steve and Priscilla Valentine of Gig Harbor, Wash.

When Priscilla Valentine, formerly Priscilla Landt, graduated from Spokane's University High School in the late '60s, she never dreamed of becoming an animal trainer and entertainer.

About 20 years ago, the Valentines purchased their first miniature pot-bellied pig as a pet. Their second piglet was Nellie, and a star was born.

Nellie, the "World's Smartest Pig," is joined on stage by Snort, Petunia and Paris, a three-month-old who will be making her first professional appearance today. "They are all hams," says Priscilla.

In more than 600 fast-paced shows, the stubby-legged porcine performers have dazzled crowds as they dance, dunk basketballs, pop balloons, roll barrels and rumble across the stage on scooters and skateboards.

The Valentines' precocious swines have appeared on a number of television programs including the David Letterman Show, Real TV, Animal Planet, Today Show and Good Morning America.

"We've had hundreds of gigs from New York to California," says Priscilla, "but for some strange reason we've never had one in Spokane. Now I get to tell everyone I know from my youth to come out and see us."

'Pig Mobile'

The talented and pampered porkers have traveled coast to coast in comfort in a modified 15-passenger 2004 Chevrolet van.

"They all love to travel," says Priscilla. "What they do best in the van is sleep. You won't hear an oink out of them when we are moving down the highway; you would never believe there are four pigs back there."

The Valentines removed the 13 back seats from the van, put down carpet and installed storage for food, toys and four crates.

Each pig always travels in an individual crate.

"They are very short legged, short-bodied animals, sort of like cannon balls," says Priscilla. "Pigs are not naturally agile or athletic animals and they can easily be injured if you suddenly step on the breaks and they go flying."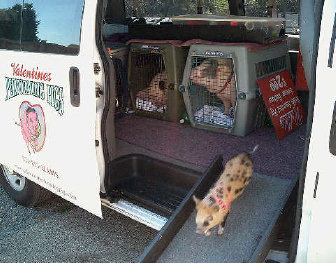 Three-month-old Paris descends the unloading ramp of the Valentines Performing Pigs' "Pig Mobile." Waiting their turns are Nellie, left, and Snort.