By Amy Moss Strong
Staff Writer, TheWorldLink.com
MYRTLE POINT - These pigs may not fly, but boy do they put on a show.
From skateboarding to slam-dunking, Valentine's Performing Pigs do everything but fly. The four portly stars will perform three shows a day at the Coos County Fair and delighted the audience with their first show Tuesday afternoon.
"Pigs are very high on the animal intelligence scale," said owner and co-star Priscilla Valentine prior to the first show.
A former high school English teacher, Valentine, 53, has loved pigs since she was 3, but was able only to have a porcelain pig collection.
"I thought they were the most beautiful creatures on earth. I still do," Valentine said.
Valentine's husband, Steve, didn't share her enthusiasm for the swine species, but agreed to buy one at Priscilla's request when the miniature version of farm pigs were first imported to the United States from China in 1985.
That pig was Wilbur, who is now "in that great pigpen in the sky," according to Valentine. The couple then purchased Nellie, now 11 (about 68 in pig years).
Priscilla had no experience training pigs, but because she felt the porkers were bored, decided to teach them some tricks.
"They seemed to need a challenge," she said.
After winning blue ribbons at pig shows several years in a row, Nellie was awarded the title of world pig champion in 1994 in San Antonio, Tex.
But Nellie's real claim to fame was when Priscilla and Steve made a short film of her called "Jurassic Pork" and sent it to America's Funniest Videos. The film won first place and a $14,000 prize.
The next day, representatives of the Phil Donahue Show called, wanting to book Nellie and Priscilla on the show. The Valentines traveled to New York, all expenses paid and Nellie made her television debut.
"She did her famous 'ham dunk,'" Priscilla said.
People started asking Priscilla and her pigs to do birthday parties, fairs and festivals. They have appeared on Animal Planet and last year Nellie appeared on the David Letterman Show. Their schedule got so busy (and profitable) that the Valentine's quit their day jobs.
"We were bringing home the bacon, so to speak," Priscilla joked.
Valentine's Performing Pigs now perform from coast to coast in various venues. In winter, the pigs make their home in Gig Harbor, Wash.
In addition to Nellie, there's the Duchess of Pork, also known as Porky, age 5; Snort, "the Bad Boy of Pigdom," age 3; and the newest addition to the family, Princess Petunia, 9 weeks old and already performing.
All the pigs are neutered or spayed and live in the house with Priscilla and Steve. They are house-trained and each has a distinct personality. Nellie, as the dominant pig, has earned the right to sleep on the couple's bed.
The pigs even dictate restrictions on the family's menu: No pork.
"These pigs are like our children," Priscilla said. "I tell people I have four-legged children. They are my whole life - if I'm not working with them, I'm playing with them or feeding them."
The pigs are competitive and must perform one at a time on stage. On Tuesday, Snort performed first, pushed a lawn mower and a barrel, jumped through a hoop, tooted a bicycle horn and did step aerobics, all to a delighted audience on the grassy lawn.
Nellie, whom Priscilla said wants to be the next "Babe" in Hollywood, gave a stellar performance, putting money in a piggy bank, bowling, spelling the word "ham" with plastic letters, golfing, hanging up the phone, retrieving the mail and playing catch with an audience volunteer.
Bud Raymond, 65, of Myrtle Point, was laughing out loud during the performance and said he'd never seen a performing pig.
"It's pretty fantastic," he chuckled. "I like her motto, 'eat beef, not pork,' that way she's safe."
Jeremy Barg, 11, of Coos Bay, who was picked to go on stage with Nellie, said he thought the show was "pretty cool." Barg is staying at the fair to show his horses.
"I think pigs are smarter than horses," he said after the show.
Jubilee Lillie, 5, of Arago, thought the performing pigs were cute and Kelsey Nelson, 9, of Coos Bay said the show changed her opinion of pigs.
"They really are intelligent," she said. "I thought they were really disgusting animals, but now I don't."
Priscilla said she enjoys showing off her succulent swines.
"We have so much pride in them," she said. "That's why we enjoy performing so much. It's very rewarding to enlighten people and teach them to respect these critters. Pigs are much more than a pork chop."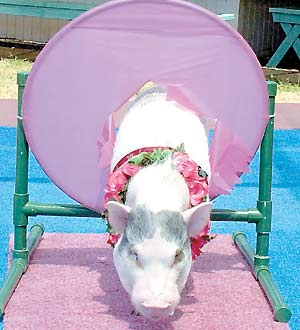 Snort, the "Bad Boy of Pigdom," above, jumps through a hoop as part of his routine with Valentine's Performing Pigs at the Coos County Fair's opening day Tuesday. World Photo by Madeline Steege