Nellie Wows the Crowd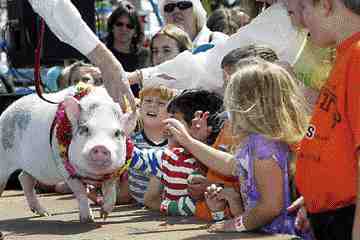 Friday, August 16, 2002 - Performing pigs a pleasant part of fair
By Lys Mendez
The Californian
Anna Macaluso and Wendy Martin of Monterey have had most of their meals for the past two days at the 66th annual Monterey County Fair.
"The German Hofbrau was to die for," Martin said as she enjoyed a glass of white wine at the fair's new wine garden. "And the mini doughnuts, with a little bit of sugar and cinnamon, they are so good. We are eating our way around the fair."
"Wine, Dine and Swine" is this year's fair theme to commemorate the wine and restaurant industry in Monterey County. Performing and racing pigs add the swine element.
Many in Thursday's crowd gave a thumbs up to this year's fair, citing entertainment, rides and other upgrades.
A crowd of 100 people gathered to watch the Valentines Performing Pigs from Seattle that have been featured in shows such as America's Funniest Home Videos.
The pigs danced, jumped through hoops, rode a skateboard and even slam-dunked a small basketball.
"I liked the whole thing," said Beulah Bathurst, who came with SunBridge Healthcare in Monterey. "The little baby one was cute."
Families enjoy fair
With eight new carnival rides and improved games, the fair is popular with families who want to bring their kids out for a day of fun.
Rosario Lopez of Watsonville said Thursday's great weather enticed her to join the carnival fun with her grandchildren.
"My son took the day off to bring the kids, and Grandma came along," Lopez said. "This is a great thing for the family."
Allison Loomis, 6, and Marisa Fernandez, 7, had a busy day at the fair. They made jam, knitted a purse and had plenty of energy left to go on all the rides.
"I want to go on the big slide," Allison said. "I was scared to go on it last year."
Rosalie and Bruce Cardoza of Pacific Grove said they've been coming to the fair for the past 33 years and enjoy the opportunity to meet up with old friends. They applauded improvements to the fair, saying this year's was the best.
"The produce display looked beautiful," Bruce Cardoza said. "They have better games in the kids' section and better prizes."
Entertainment
Big-name performers such as The Nelsons and Tower of Power are another reason many hail this year's carnival as the finest.
"I want to come tomorrow to see Tower of Power," said Nate Garner of Salinas. "But I came today to put the kids on some rides, eat a candy apple and cotton candy."
Macaluso said she spent the day Thursday waiting for The Nelsons' performance.
"The key was getting better entertainment," she said. "It just didn't hold you before."